$12.50 plus $7 postage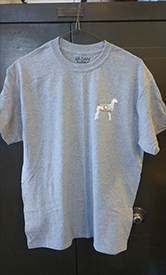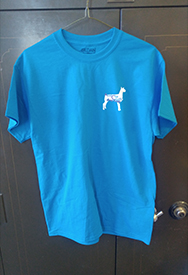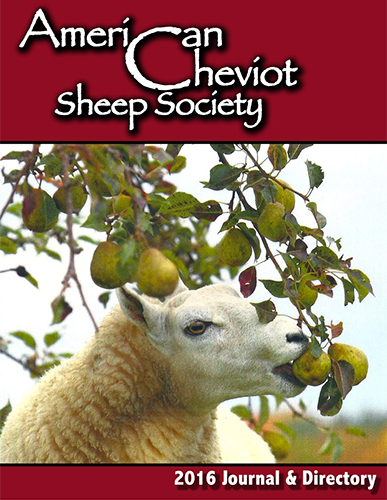 CLICK HERE TO DOWNLOAD THE
AMERICAN CHEVIOT SHEEP SOCIETY SCHOLARSHIP APPLICATION

The Associated Registry office has moved please send all registry work to:
PO Box 231
Wamego, KS 66547
Phone 785-456-8500
Fax 785-456-8599


Click here to view 2015 National Sale catalog

If you are planning to attend the National Show & Sale in Springfield, IL June 18-20, due to a conflict with other activities at the Northfield Inn, we have had to change our sale headquarters to the Microtel and the Super 8. Their phone numbers are Microtel (217-753-2636) and Super 8 (217-528-8889). You need to make your reservations by June 1st to get the discounted rate of (99.00 for Microtel and $65.00 for Super 8). I apologize for any inconvenience that this causes you but it was out of my control.

The ACSS will sponsor a social gathering with light snacks and fellowship following the Cheviot show at Louisville on November 19th. It will be held near the breed display tables north of the show ring. Bring your lawn chairs and stop by for a visit.


Click here for results


Results Posted!


Click here for entry form & information

The American Cheviot Sheep Society has started a raffle for non-Cheviot owners to be drawn at the Ohio Showcase Cheviot Sale May 9th in Eaton, OH. At least one $500 credit on the purchase of the Cheviot of your choice will be drawn prior to the sale. Several breeders have graciously donated to start the pool of funds in this drawing. Raffle tickets can be purchased for $5.00 each. Just send in the form below and mail to American Cheviot Sheep Society, 10015 Flush Rd. St. George, KS 66535
Click here for Application


The advertising and information deadline for the 2014 Cheviot Journal and Directory
is February 20, 2014.
Plan to be included in the annual publication by submitting your information to the American Cheviot Sheep Society office.
See the attached letter for more information.
2014 Cheviot Journal and Directory Letter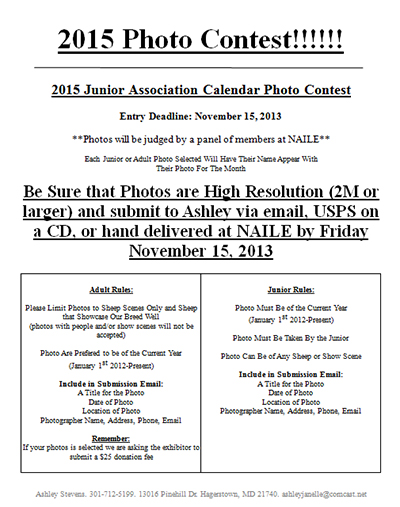 Click here to view the Junior Cheviot Association photo contest flyer!
Special thanks to DeVries Cheviots for donating the ewe lamb that will be sold in the national sale on Saturday June 22nd. She will be futurity nominated. Proceeds go to support the Cheviot youth activities at the All-American Junior Show and NAILE, as well as the futurity and scholarships.

Click here for the Spring 2013 Junior Association newsletter



Click here for the 2013 Yearling Ewe Futurity Nomination Form
Click here for the Cheviot Futurity Point Record Form (Word doc)

David, Melissa, Paige & Cheyenne Clyde

95 N. Maysville Rd.


Greenville, PA 16125


(724) 588-8832 Cell


(724) 588-8831 Fax






Hawthorne Manor Farm


RR#1 Box 1295
Carbondale, Pennsylvania U.S.A. 18407 Phone: 570 222 4723
info@hawthornemanorfarm.com www.hawthornemanorfarm.com





John & Judy Moore


11989 Hinman Rd.
Eagle, MI 48822
517-626-6012
jmoore@2farmconnect.net
www.moorehampsandcheviots.com



Chuck & Denise Orr
262 S. Foster Rd.
Jackson Center, PA 16133
814-786-7018
mistyacres@wononline.net
www.mistyacres.net

Shepherd's Bounty Farm
Dean L Hyden
2320 Burnt Valley Rd
Chewelah, WA 99109
(509) 935-7193
shepherdsbounty@centurytel.net
www.shepherdsbounty.com



Sue's Cheviots
Sue Stocks Traglia and Dan Dinova
PO Box 301
Atascadero, CA 93423
Sue (805)704-7445
sue@suescheviots.com
Dan (805)712-0859
dan@suescheviots.com www.suescheviots.net



Sunny Slope Acres


Ashley Stevens
Frederick, MD




Triple J Acres
John S Eaton & Melissa Trostle
4070 Delta Road
Airville, PA 17302
(717) 747-1546
jeaton@peoplesbanknet.com
www.tjacheviots.com


A special thanks goes to Rincker-Woods Cheviots who donated a junior ewe lamb to be auctioned at the 2012 National Cheviot Sale with all proceeds going to the Cheviot Junior fund to help sponsor the Cheviot portion of the All-American Junior Show, scholarships and other awards for the junior members. This year $1475 was raised by the sale of this ewe lamb.

A special thanks to the group that purchased the ewe lamb. They included:
John & Judy Moore
Ron & Barb Yochum
Duane Glasshoff
Willerton Family
MacCauley Suffolks & Cheviots
Mrozinski-Schwartz
Ebert Tax & Accounting
E&C Plank
Ashley Stevens
Remmert Cheviots
Misty Acres Cheviots
Pine Knoll Acres
Bill Lawter

Bob Hunter
Diamond C Farms
DeVries Family
Triple J Acres
David Allen
Julie Reznick
Karol Willie
Sue Traglia
Long Family Cheviots
Bob & Sharon Schaefer
Ted & Charlotte Coil
Doyne Lenhart
Gary Saylor Auction Service
These gracious people donated the ewe lamb back and she sold the second time to the Phillip Moore Family. Thank you to everyone!

Results now posted!

Click here to read the Cheviot Newsletter

Click here for the Yearling Ewe Futurity Nomination Form

Click here for the American Cheviot Sheep Society Queen Application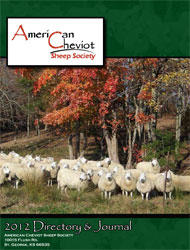 Please support the Border Cheviot 2013 Calendar Fundraiser. This is a new fundraiser to help support the American Junior Cheviot Association.
See the Junior Association page for complete details.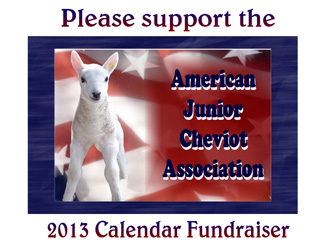 Results have been posted from the following shows:
- 2011 NAILE Jr & Open Shows
- 2011 All-American Junior Show
- Ohio Showcase Sale
- 2010 NAILE Cheviot Show (Open & Junior)
- 2010 National Cheviot Show
- 2010 Ohio State Fair

Check back often for more results throughout the show season!



The following were the list of buyers for the donated ewe lamb from John & Judy Moore, Eagle, MI at the 2011 National Cheviot Sale.
Hunter Cheviots, OH
Glasshoff Cheviots , NE
Bob & Sharon Schaefer, WI
Heatherwood Cheviots, IL
Triple J Acres, PA
Ron & Barb Yochum, PA
Willerton Cheviots , IL
Ted & Charlotte Coil, IN
DeVries Cheviots, IL
Gayle Hoffman, IL
Gary Saylor, Auctioneer, OH
Ebert Tax & Accounting, KS
Skeeter Creek Farm, WI

Pine Knoll Acres, MN
Rader Cheviots, IL
Andrea Mrozinski-Schwartz, IN
Bill Lawter, IN
Richard & Judy Schambow, WI
Moenter Homestead, OH
Brooke's Cheviots, IL
Long Family Cheviots, WV
Roger & Connie Flynn, IL
David Allen
J. Susan Traglia Cheviots, CA
Misty Acres, PA
The final purchase was made by the Duane Glasshoff Family, NE. Thanks to all for their support of our Cheviot youth and the All-American Junior Show.

Click here for the sale report

Illinois State Fairgrounds, Springfield, IL
Friday, June 17th 8:00 AM - National Cheviot Show, Judged by Jeff Repasky
Junior Silent Auction - during the show - please continue to support the juniors by donating and bidding on items.
Friday, evening - Annual meeting and banquet at the Northfield Inn, this is also our sale headquarters - Phone # 217-523-7900
Saturday, June 18th 9:00 AM - National Cheviot Sale with Gary Saylor as auctioneer.

Click here for sale information
Click here for an entry form